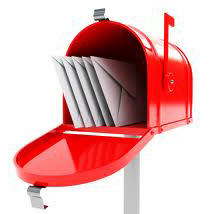 Direct marketing is a form of advertising that allows businesses to communicate directly to a targeted market.  There are several media used in direct marketing.  Let's look at direct mail as a media for direct marketing and how cost effective it has become.  The U.S. Postal Service has designed a program called Every Door Direct Mail.  This program is designed to help businesses reach every home, every address, every time.  The great part is this program offers a cost effective way to create a direct marketing campaign.  Here is how Every Door Direct Mail is cost effective:
Target market is selected by zip code or carrier route.  You save money because there is no need to purchase a mailing list.
Marketing piece can be up to 15" wide and 12" high.  This gives you more real estate for your marketing message and stands out in the mail.
The cost to mail this marketing piece is 14.5 cents with this program.  Normally it would cost 44 cents to mail this size piece.
An effective direct marketing campaign will include a marketing message that has impact and gets the attention of your target market, is to the point and provides a solution to a problem, need or want.  It must include an incentive and call to action. Include these elements and not only will your direct marketing campaign be successful, it will be cost effective.
Design Dept. is a Dallas based advertising and graphic design company.  We provide creative advertising design that is attention getting and results in customer action.

Tags: cost effective direct mail direct marketing target market